Why you need best pdf editors? Let's find the need of best pdf editing software. In our day to day research work and browsing through the information for relevant content, we more often than not run into downloading files, most of them being a PDF file format. With its extensive use, it is a question of interest as to why use PDF format files.
Why Use Best PDF Editors for Editing PDF Files?
Portable document format or popularly PDF has basically gained popularity for it's following uses:
It allows other systems to open the file in the same manner and format as you want them to see. Moreover, the font display issues embarked on the viewer machine do not exist with PDF files. This means any format file can be converted into a PDF file without compromising on the quality.
Additionally, PDF formats are very compact; the content is in compressed form and hence it is extremely simple and uncomplicated to share it on the internet for a myriad of platforms.
In businesses or even for personal usage, we come across a situation where we might want to edit the PDF file as per our requirements. In such scenarios, PDF editors come to our rescue.
10 Best PDF Editing Softwares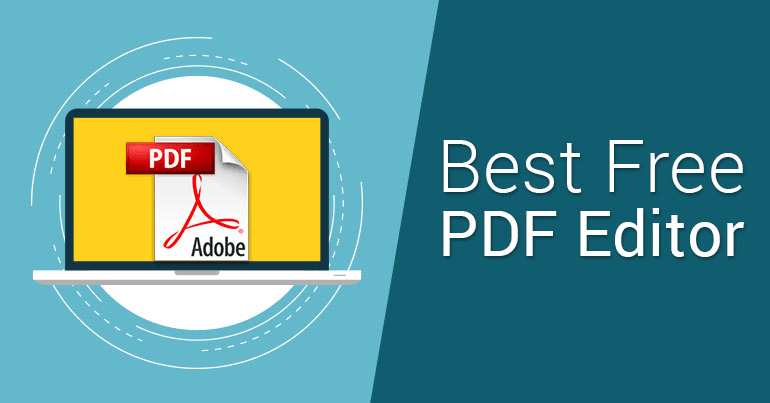 Here is the list of the 10 best PDF editors that you can bring into the purpose for your business or personal use:
1. Adobe Acrobat
Unarguably the best tool for PDF editing has to be Adobe Acrobat. Adobe was the one to introduce the PDF format and has set the standard for editing this format ever since then. Available for Windows and macOS, this tool is efficient for converting PDF file to HTML pages, Word, Powerpoint and Excel documents. Moreover, merging multiple pages/ documents, instantly saving scanned documents to PDFs, easy sharing and affordable storage on the cloud becomes extremely simple with Adobe Acrobat.
Features of Adobe Acrobat:
Adobe Acrobat's PDF editing is available for desktop as well as mobile devices.
Storage on Adobe Document cloud allows for easy sharing and exporting of PDF files along with convenient gleaning of digital signatures.
Though one may find difficult navigating through this tool, it is indeed the most ubiquitous PDF editor.
2. PDF element
PDF element regards itself as an alternative to the Adobe Acrobat including a myriad of functionalities. This PDF editor is supported on Windows and macOS systems and is available as an application on iOS and Android systems. It comes in standard and pro version. While the standard version provides basic editing and form signing utilities, the pro version is enriched with OCR for multiple language support and adding bates numbers to multiple documents at the time of batch processing.
Features of PDF element:
Flexible and quick to use with loads of editing options.
It provides strong security allowing easy and secure storage and sharing of content.
Best for professional teams.
One of the drawbacks of this software is its inability to integrate video files while creating a PDF, but apart from that, PDF element is any day, anytime recommended.
3. Nitro Pro
For intuitive PDF creation and best pdf editor in the professional world, this software is particularly exceptional. It is compatible with almost all Windows-based operating system. It incorporates all of the tools necessary for PDF editing. Nitro Pro is built for Windows operating system for desktop applications only. Moreover, it has Microsoft ribbon-style interface.
Features of Nitro Pro:
It facilitates page rearrangement, editing, text, and graphics.
Nitro Pro is tightly coupled with Nitro Cloud thereby providing effortless collaboration and provides a pathway for real-time tracking.
It has enhanced document conversion utility.
It has a powerful and efficient white-out tool for securing sensitive content.
Nitro Pro is an effective option to Adobe Acrobat, with no support for mobile apps and low-quality image conversion.
4. Nuance Power PDF
Nuance Power PDF, again, an efficient tool for managing your PDFs, runs on macOS for the standard version and Windows-based operating system. This particular tool is accurate for transforming heavy graphics and complex table structures. The intuitive user interface is capable of efficient PDF merging and batch processing. Moreover, with its integration to major cloud services enables for easy sharing, logging, and strong security. The software is compatible with all Windows-based operating system included touch-enabled devices.
Features of Nuance Power PDF
A simple interface powered with understandable tools enables easy creation, editing, merging, conversion of PDFs.
It is optimized for handling heavy graphics and other content like images and tables.
Extensive support to cloud services helps to prevent unauthorized or unwanted access.
The software features convenient markup and manipulation utilities.
Nuance Power PDF comes in 3 versions, wherein, one will first have a trial period of 3 months. With its affordability and impactful features, it is a great tool for all businesses and enterprises as well as for individual use.
5. AbleWord
AbleWord is one of the less renowned PDF editors amongst the others. This particular editor supports Windows XP, 7, 8 and 10. It is a free tool for Windows systems wherein editing the PDFs becomes rather very simple. Moreover, it also enables Word document-style editing providing features like adding and formatting headers, footers, tables, and images. With several other functionalities, it also includes spell check.
Features of AbleWord
Convenient and free
Support for Microsoft Word features
Although it is convenient to use and free, it does have an enriched set of features and its editing does not match the standard of other editing tools in the list.
6. PDF-XChange Editor/ PDF-XChange Editor Plus
This editing tool is particularly included for its affordability factor as compared to Adobe Acrobat. There are standard and plus versions available with the standard one sufficient for basic usages such as editing, conversion, OCR and several others. The plus version especially comes into the picture for creating forms.
Features of PDF-XChange
This editor has an extensive set of functions such as blackout tool, editing/rotating text passages, clickable links, colorful QR codes and much more.
It has an easily customizable toolbar.
It is enhanced to read out selected text pieces.
You may notice watermarks in the trial version and the text editing a bit annoying, PDF-XChange is undeniably a very economical option.
7. Foxit PhantomPDF
Foxit PhantomPDF is a powerful PDF editor tool. Though it can be used for individual use, it is extremely efficient when it comes to using it for business or professional use. With a simple interface to manage PDFs, the software is enriched with excellent tools and utilities for a fabulous PDF editing experience. The software is supported on all Windows-based operating systems and Linux.
Features of Foxit PhantomPDF
It allows conversion of PDF to Microsoft Office documents.
It enables export of PDF file to various formats.
Foxit Phantom PDF extends support for converting, editing and digitally signing of PDF documents on the internet.
It supports scanning of PDFs and is intelligent for optical character recognition (OCR).
Foxit provides extensive support for over 41 languages, for ease of use for people across countries.
Foxit also has ConnectedPDF feature, that makes it effortless to edit, convert manage and log in all the activities for that file.
It lends support for integrating with multiple software like Google Drive or OneDrive, etc.
However, the software is a tad-bit turn-off on the Javascript end but is of great use with multiple features available for free users as well.
8. Sejda PDF Editor
Sejda PDF editor supported by Windows, macOS, Linux systems, one of the most basic PDF editors one will come across, focusses on all the basic functionalities and that is the best part about this editor. It is a web-app that allows to accurately edit and convert the PDFs. The user interface is very finely designed permitting easy editing options with clear instructions. Moreover, this will additionally enable you to do PDF editing real-quick. It is enabled to replace occurrences of a word, transform images and text to grayscale, add comments and links and to put up signatures to the PDF files. The editor permits editing only of a certain number of tasks and PDF file sizes to be performed post which it will ask for a subscription to any of the 3 plans: Weekly, Monthly or Annual Pass.
Features of Sejda PDF Editor
Clear, quick and well-instructed user interface.
No limit on the number of PDFs edited based on an hour or pages criteria.
Best for individual use.
However, Sejda only offers a few basic and limited utilities. It also does not offer OCR and is comparatively less secured.
If you are using personal use, this is the best option available. This can be ranked as top among best pdf editors available.
9. PDF Buddy
PDF Buddy is an online PDF editor that does not require the download and installation of the editor to your system. Online editing means it becomes extremely easy to upload and editing using this tool. It is a basic editing utility with free editing on any system; meaning all that is required is a web browser on any of macOS or Windows systems. It also permits to add signatures real easy. The user interface is clean and tidy allowing to save enough time on easy editing functionalities.
Features of PDF Buddy
Tidy and intuitive user interface with clear instructions.
Saves time on basic PDF editing.
Online utility so no download or installation is a prerequisite.
PDF Buddy does not permit more than a few functionalities; it does not even permit merging of PDFs or creation of a PDF file with it. Moreover, security is a concern as this tool is an online utility. So, for personal basic use, PDF Buddy is a hassle-free option.
10. Qoppa PDF Studio
This is a desktop-based PDF editor with an easy to use interface. The editor is made available in three options, namely, free, standard and the pro version. The operating systems compatible with this PDF editor include the Windows, Linux, Unix and macOS. This editing software is packed with multiple features and powerful tools for allowing users to edit PDFs.
Features of Qoppa in Standard version:
It allows for creating PDFs.
Qoppa features Scan-to-PDF option.
It enables annotation and markup of PDFs.
It enables to add/append or delete PDF pages.
Qoppa PDF Studio allows for easy application of bookmarks, table of contents, headers, footers, rulers, etc.
It facilitates easy fill-in and saving of PDF forms and the creation of secured documents.
With the Pro version, it allows additional unlocking of features such as optimizing and comparing PDFs, text recognition, advanced level of PDF splitting and merging and many more.
It is a dependable and inexpensive alternative for Adobe Acrobat. However, this tool gives only a handful of image editing options.
Prior to making a choice for best PDF editor tool, ensure that you have thoroughly gone through the reviews, you have knowledge of the kind of use for which you need the PDF editing tool, the company size and particularly the functionalities you actually need.
So, choose wisely!