In today's busy world, every person is struggling to keep up with 16 GB on their cell phones. We constantly keep on seeing the message saying "your device is low on space". We have no space for our photos, music and other important documents due to the space consumed by these junk files.  Although Apple has upgraded their base model to 32 GB, still some problem persists of storage space. The junk usually takes up the entire space. These files are certainly useless but sit and take up space on your devices.
So, we are here for your rescue, and help you save space on your iPhone. Junk data, many application caches and temporary files collect and use up the considerable amount of space on your iPhone. In the worst case scenario, Apple does not provide any easy way to clean up the junk. No worries, we have listed below a few ways to help you:
Clear Cache on iPhone (for Non-Jail-broken devices)
Using third party apps
Many app developers have tried to offer you clear cache function in their apps. But, as soon as Apple notices they are forced to remove this function in their upcoming updates. This is kind of hide and seek game played by apple and app developers. "Battery doctor" is one of the apps that tried to sneak in this feature. This app is mainly used to show battery consumption and a few other related functions. If you're fortunate enough, you can download this app with clean junk feature but you'll have to keep an eagle's eye on when this feature is introduced. That is so because either Apple removes the app from app store or developers remove the "clean junk" feature themselves. Here, we have shown you a picture of "battery doctor" with the feature of clean junk.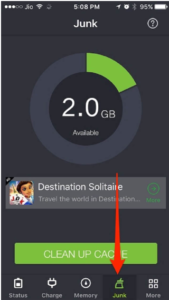 Currently, this app is not working, but you should continuously keep looking for it in order to gain maximum benefits.
Using Companion PC/Mac
Another option to clean junk and temporary files from your iPhone is to take help of your PC or Mac. Many file managers allow you to view your files on Windows PC or Mac. All you need to do is allow your computer to access your iPhone. Most of the file managers come with an inbuilt option to clear junk and cache. iMyFone is one such tool that helps you to clear junk, cache files and temporary files. Once you have downloaded iMyFone, all you need to do is connect your iPhone to your Windows or Mac via your lightning cable. After connecting you will get a prompt on you iPhone, click on "trust" and continue.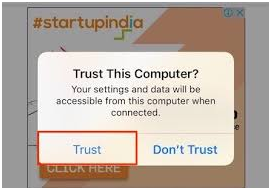 Now, you can easily access your data from your Windows or Mac. Go to iMyFone's "free up space" and start scanning. Within few minutes of scanning this file manager will show you amount of junk that can be cleaned and also give you an option to clean it. It allows you to easily clean junk, temporary files and unnecessary cache files.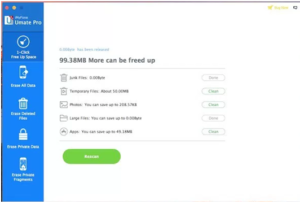 Although this is free but it only allows you limited attempts to clear junk but you can also buy the premium version for $19.95.
Reinstall apps
This is the most tedious option of all, where you have to "uninstall and then reinstall" the app again. This is the only option that Apple approves of because it does not need any third party. You can clear the cache of an installed app easily by this option. Long press on the app and then tap on the cross icon in order to uninstall the app.
Deleting the app helps you delete any cache files or other files that it may be storing. You can reinstall the app from the app store and log in again to restore your data. This is a very troublesome process as you'll have to delete and reinstall every app individually.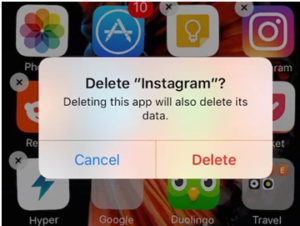 Recently, many apps are including a clear cache option internally inside the app. You just need to go to the app settings and check whether the app allows it or not. Dropbox and Twitter on iOS allow you to clear cache in their latest updates.
Clear Cache on iPhone (on Jail-broken devices)
If you have jailbroken your devices, here are a few modifications that can help you:-
This is a "stand alone app" that allow you to clean junk files. It allows you to clean the safari cache, temporary files, message attachments and all kinds of cache from the other apps, just with a single tap. This app is certainly very useful as it creates no mess and helps you to easily clean junk and cache from your device.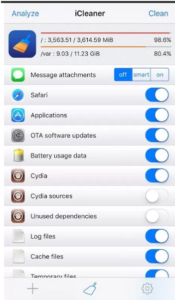 To use this, you have to add https://ib-soft.net to Cydia and download it. There is a free version but it can also be upgraded to a pro version. This pro version allows third party plugins and enables 3D touch specific features on iPhone 6s or newer.
Another free of cost option is CacheCleaner that allows you to clear cache individually for apps and saves you from the trouble of reinstalling the apps again. It works by adding an option to clear cache right into the app settings, so this feels like a built-in option.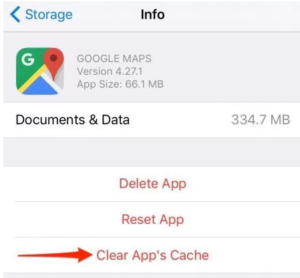 To use this, add the Cydia source "http://rpetri.ch/repo/" and download CacheCleaner. And, now you're good to go and clear junk.
Clear Cache on iOS 10 using These Ways
So, I wish the methods mentioned above really help you to clear junk, cache files and temporary files from your iPhone.Cleaning junk and cache files can make up space for your important documents and presentations. Apple should certainly launch an official option globally to clear cache from iPhone. Until then, you can use the options given by us. If you liked this article, share it with your friends and family to help them also save some space on their iPhone.
And, also if you have any other tips, tricks or queries to share with us do let us know in the comment section below.