What is an MMI Code?
Any code that you enter in your phone keypad starting with * (asterisk) and ending with # (hash) can be called an MMI code. MMI stands for Man Machine Interface. These MMI codes are assigned various commands from recharging your phone balance to checking your IMEI number.
Although all these MMI codes look similar, they are primarily of the following types:
Supplementary Service (SS) Code: These are the codes that are meant for control, for example, call forwarding and number presentation. With the code *21*987654321# the user instructs the phone and subsequently the network to forward all the incoming call to the number 987654321. These codes cannot be sent directly to your network; Instead, a parsed to create an ASN.1 request for the network. Such codes are hardcoded in every GSM/LTE/UMTS phone in the world and cannot be altered by the network provider.
USSD (Unstructured Supplementary Service Data) Codes: Any code that is entered by the user containing a # (hash) sign at the end and is unrecognized by the phone's MMI parser, it is sent to the network provider. Depending on the network if that code is supported, it will provide the desired result, otherwise, will flash invalid code. For example one of the most common types of using a USSD code is while checking your prepaid account balance. *123# or *111# are codes that are recognized by the network provider.
Also if a code like *20*12345# and *21*12345# is used, the first one will be sent to the network provider as it is an unrecognized code by the phone MMI parser, but the later code will be used in call forwarding.
Please note that for both SS and USSD codes, the user needs to press the SEND button after entering the code, as it isn't possible to execute the code automatically.
Manufacturer-defined MMI Codes: This category contains codes that are built specifically by your phone manufacturer and specific to your device. For example, the code *#06# will show you the IMEI (International Mobile Equipment Identifier) number. These codes are not being sent to the network provider, as a result pressing the send button is not required.
There have been a lot of complaints from Android users saying that they are facing Invalid MMI Code messages. Such reports have been very popular among users having Samsung Galaxy Phones. These errors are encountered when checking your account balance or topping up or recharging or any other tasks which involved using the  *# commands (star hash) on your phone.
While cell phones from a different country may vary, in general, Invalid MMI error codes are encountered mainly while using dual SIM smartphones.
How to Fix Connection Problem Or Invalid MMI Code
Listed below are a few simple methods which any user can use to resolve the Invalid MMI code error.

Method 1: App Disabling
This is one of the easiest and the most effective method of correcting this error. Often at times there has been a certain app installed by the user responsible for creating this error. The simple correction can be to delete the app or rather uninstall this app. If you are not able to determine if it is a problem caused by a certain app, then you can log on to safe mode on your phone and follow the next steps.
Log into safe mode:
Switch off your phone
Hold the power button
While holding the power button tap constantly on the menu button
You will enter the safe mode, and it will be denoted by the logo in the bottom left of the screen.
Now test if it is a problem caused by any app:
Enter the same MMI code that was creating the error before e.g *123#
If it works in the safe mode, then there is some app installed on your phone which is creating the error.
Reboot the phone and try to uninstall the app.
It is always recommended to take a data backup and then format your phone to do a fresh install.
Method 2: Add a Comma(,) or Plus(+) Symbol to the Number
Another simple way to get rid of the Connection Problem or Invalid MMI code error on any Android phone is by using either a comma or a positive sign along with the code.
For example: With an MMI code like *123*4# the user can simply rewrite it as *123*4#, or using a positive sign before the code like *+123*4#.
Using a comma forces the operation to be executed overlooking any error that is encountered on the way.
Method 3: Turning on SMS over IMS
To fix Invalid MMI Code error on any Samsung Galaxy phone, this method is quite simple as well as it required the user to simply enter into device information mode and subsequently activate Radio to Turn on IMS over SMS.
Steps to enter information mode:
Type *#*#4636#*#* in the dialer.
Go to Device/Phone information.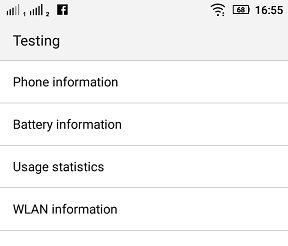 Now Click "Run Ping Test." Once ping test is conducted.
Click "Turn off the radio."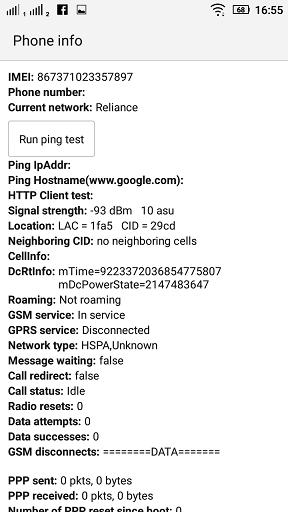 Click "Turn on SMS over IMS."
Once this setting is turned off, SMS is sent or received via the circuit switched connection. Reboot the device after all these.
Method 4: Restart Phone Multiple Times
Restart the phone multiple times can do the trick. Or turn on the phone, go to network settings and then restart phone again. Restarting multiple times clears up the RAM and the memory of the phone which is often responsible for the error.
Method 5: Selecting Proper Network Provider
Go into phone settings and navigate to network connections. Go into Mobile network and perform a network operators search. Select any recommended service provider, then check the MMI code if it's still working or not. Usually, this method takes 4-5 attempts before starting to work properly. Finally, if nothing works, contact the service provider. And let them know about the issue, it can always be an error at their end.
These are the very easy, effective and best method for solving and fixing this 'Connection Problem or Invalid MMI Code' Problem. Hope you will learn and liked this post.