Searching for best search engines? Nowadays whenever we have to search for anything on the internet we simply "google" it. For us, Google is one of the best search engines out there if not the top search engines. But if asked to make a search engines list we could name only a few like Bing or Yahoo.
Besides Google, Bing, and Yahoo there are several other search engines out there. People can use these search engines as an alternative to Google; they also provide valuable information and answer of their queries.
List of Best Search Engines in 2023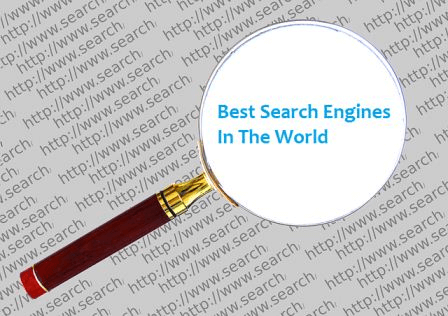 In this article, we will make a list of the top 10 search engines.
1. Google
Google Web Search commonly referred to as Google is a web search engine developed by Google Inc. It is presently the most used Search Engine on the World Wide Web. It handles more than three billion searches every day. As of February 2018, it has a US market share of 64% making it the most used search engine in the US.
Google is available in 123 languages. As of January 2018, it has an Alexa Rank of 1 making it the top search engines in the world. It presently has 4.5 billion active users globally.
Google was launched on 15 September 1997. The programming languages used to code Google are C, C++and Python. Goole Inc. is a commercial company making most of its revenue from Google AdWords.
2. Bing
Bing is a web search engine developed, owned and operated by Microsoft. It has its origins in Microsoft's previous search engine endeavors like MSN Search, Windows Live, etc. It was launched on 1st June 2009. The programming language Bing uses is ASP.NET. It is available in 40 different languages. As of now, Bing has an Alexa Ranking of 26. By the January of 2011 Bing's market share had increased to 12.8% at the expense of Yahoo And Google. It currently has a market share of 19.8%. The searches powered by Bing tend to have a higher "success rate" compared to Google with more users on clicking on the resulting links.
3. Yahoo
Yahoo Search is a web search engine owned by Yahoo. It currently has a market share of 12.8%, and after Google and Bing, it's the third best search engines in the US by query volume. Yahoo is currently available in 40 different languages worldwide. It was first launched on 2nd March 1995. The language used to write Yahoo is mainly PHP. As of now, it has an Alexa Rank of 6.
4. Ask
Ask.com was originally known as Ask Jeeves. It is a question answering focused e-business and also a web search engine. It was founded in the June of 1996 by Garrett Gruener and David Warthen in Berkeley, California USA. As of now, it has an Alexa Rank of 94. It is available only in the English Language.
5. AOL
AOL.com originally known as America Online is also among the best search engines in the world. It is a multinational mass media corporation based in New York USA. It is a subsidiary of Verizon Communications. The company owns and operates famous American websites such "The Huffington Post", "TechCrunch" and "Engadget".
6. Baidu
Baidu is a Chinese Web Services Company. It was incorporated on 18th January 2000. It is headquartered at the Baidu Campus in Beijing's Haidian District. Baidu is one of the largest internet companies in the world. As of now, it has an Alexa Rank of 4. Baidu offers several services which include a Chinese search engine for websites, audio files, and images.
7. Wolframalpha
Wolfram Alpha is an answer engine (also known as a computational knowledge Engine). It was developed by Wolfram Research (founded by Stephen Wolfram). WolframAlpha was launched on 18th May 2009. It is unlike a traditional search engine wherein it doesn't provide a list of documents or web pages that might contain the answer. Rather it answers factual queries directly by computing the answer from extremely well sourced and "Curated Data". It has an Alexa Rank of 1932 as of March 2015.
Also Check: Earn Free Google Play Credit
8. DuckDuckGo
DuckDuckGo is an Internet Search Engine that promotes searcher's privacy and avoiding the filter bubble of personalized search results. It is available in English language only. As of now, it has an Alexa Rank of 542. It was launched on 25 September 2008.
9. Yandex
Yandex NV is a Russian Multinational Technological Company.Yandex operates the largest search engine in Russia and has about 60% market share in the country. The site operates in Belarus, Kazakhstan, Ukraine and Turkey. It was founded in 1997. As of latest time, it has an Alexa Rank of 24.
10. ChaCha
ChaCha.com was founded on 1st September 2006 and was a human-guided search engine. It provided a real-time answer to questions through its website or by using mobile apps. All we had to do was type anything into its search bar, and our queries would be answered in real time. It also provided mobile and marketing services. It has as of September 2012 an Alexa Rank globally of 1192.
Conclusion
Thus we have made a list of the most popular search engines from around the world. Google, Bing, and Yahoo no doubt are at the top of the search engines list as they are the most widely used search engines globally. But the search engines list is not fixed and their rankings may change in the future.
The list of search engines would be updated each year based on the individual popularity and quality of services and uniqueness of features. But for the time being Google's position as the Top Search Engine or best search engines remains certain and none of the competitors is even ready to pose at least a threat to Google's Top position in the near future.