DNS Probe Finished Bad Config error generally occurs when there is an error in the configuration of your PC or router. That being said, it can also happen due to other reasons like:
Faulty anti-virus software
Problems regarding the website being down
Problems in your firewall settings
A dns_probe_finished_bad_config for a Chrome user looks like this: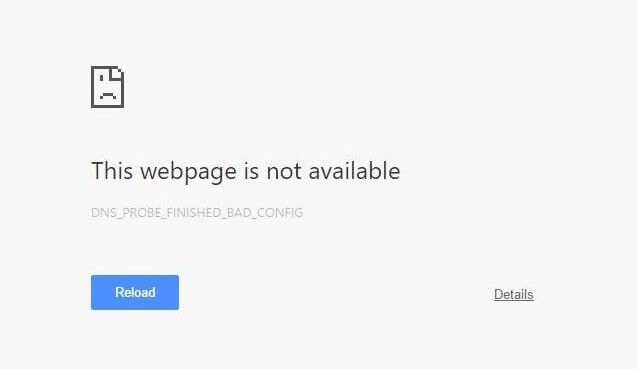 The error also appears on Mozilla Firefox or other browsers.
6 Easy Ways to Fix DNS Probe Finished Bad Config Error
Now that you are on this page chances are that you have faced this problem and have not found a solution. Here is how to solve the dns_probe_finished_bad_config error, by six different methods:
FIX #1: DNS Flushing
This is probably the most common fix for the dns probe finished bad config error.
Also Check: How to Fix Google Chrome Not Responding
Flushing the DNS first deletes the existing DNS cache and then repopulates the settings. This way any out-of-date or faulty settings is replaced with proper settings thereby removing errors in DNS configuration.
To flush your DNS cache follow these steps:
Open Command Prompt. To do that you can follow one of these methods

PressWindows+R and then type cmd.exe in the resulting search box and hit run.
Type "command prompt" in the start menu and hit enter.
Look for command prompt in the accessories section in the program list.

Type the following codes in the resulting command prompt and hit enter after each code

netshintip reset
netshwinsock reset
ipconfig /flushdns
ipconfig /renew
Windows will now automatically reset the DNS settings and repopulate it with the correct settings thereby fixing the configuration problem.
FIX #2: Manual Reconfiguration
This process involves an easy to do a manual reconfiguration of the DNS address. This is done by accessing the Network Sharing Centre (the button of which is found at the bottom right of the toolbar in your desktop). Proceed with this method for a quick and easy manual overhaul of the network settings. The steps that you need to follow are:
Right-click on the network icon in the extreme right of the windows toolbar. It will be in the shape of a monitor if you are using LAN or the Wi-Fi symbol if you are using a Wi-Fi connection for internet.
Select- "Open Network and Sharing Center."

From the above section select Local Area Network. On selecting. A new dialogue box will appear. Select "Properties" as shown in the following image.
From the next dialogue box that opens, select "Internet Protocol Version 4" and press the 'Enter' button as below-

After you have done those above, a new dialogue box will open. Select "Use the following DNS Server Addresses" as highlighted below.
Put the value- [8.8.8.8] in the Preferred DNS server and the value [8.8.4.4] in the Alternate DNS server sections respectively.
Check the "Validate settings upon exit" checkbox and press "OK."
Here is the illustration of the final step-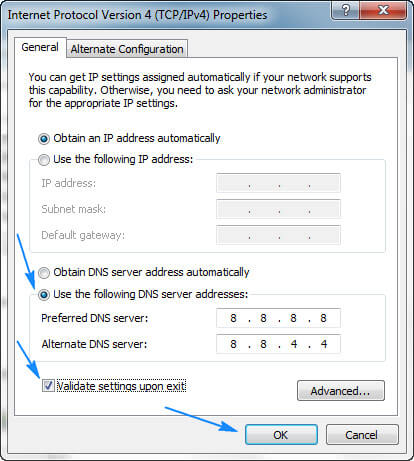 Following this, how to fix dns probe finished bad config error should be resolved.
FIX #3: Turning of Firewall and/or Antivirus
As mentioned earlier, the dns probe finished bad config error can also be a result of any discrepancy in your system's Firewall or Antivirus or its related settings.
Also Check: How to Solve Mobile Network Not Available
If you have started receiving the error after an update to your Antivirus software, or a change in the settings of your Firewall chances are that this might be the root of your problems.
There is only one way of knowing for sure what the real cause of the error is and that is by turning off one of the two and checking if the error is resolved. If turning one off (while the other remains on) solves the problem then you have to restore the previous version of the software that is causing the problem.
It is advisable to contact your vendor to get the software rectified.
FIX #4: Resolving Website Filters
Many website filters or blocking extensions are known to cause the dns probe finished bad config error. If you have started having problems after installation or upgrade of any such software, consider disabling it temporarily or uninstalling it.
Check for the error again on your browser. If it works fine, then it was the software causing the issue.
FIX #5: Hardware Redressal
Your browser's dns probe finished bad config error, can also only be a result of a hardware malfunction. In this case, consider turning off your laptop or PC (or other related systems) and disconnecting it from all power sources. Also keep in mind that your LAN wire and/or router/DSL box should also be turned off and disconnected.
Leave the entire system alone for 5 to10 minutes to ensure that the flow of electricity in your devices are completely drained. After this is done, power on and reconnect the system and check if the error is displayed again.
FIX #6: Other Elementary Fixes
You can also try these quick alternates in case your problem is not resolved-
Keep your network driver updated. Out of date drivers can often be incompatible or erroneous and thereby result in the problem.
Data reversion by:

Deleting cookies
Erasing Browser Temp files & cache
Erasing browser history
The above methods can also solve the problem.

Try a different browser altogether.
It is always advisable to keep more than a single browser on your PC since the malfunctioning of one will not affect your work.
You can also uninstall the browser showing the dns probe finished bad config error, and reinstall it back.
Technical Advisories:
It is always advisable to keep track of any update or changes that you make to your device. Keeping a track can help you identify target areas and loopholes quicker. It can also help you decide which solution to choose.
Therefore, the first step is to down any alterations made to the system, updates or new software installations. You might also want to check your hardware connections.
The dns probe finished bad config error can be solved quicker when you have properly realized which step you have to undertake. Often decisions taken in a hurry can worsen the situation. Thereby, it is important to not panic and analyze all possible solutions before opting for one.